The Current Landscape: How COVID-19 has impacted data center operations
The COVID-19 pandemic has been a defining moment for the cloud, reinforcing the importance of data centers and what they do. Due to a rise in demand for digital services and widespread access to low-cost capital, the sector's future looks bright.
Much of the growth at the physical infrastructure level is driven by hyperscale cloud service providers - in fact, according to 451's projections, these providers will have deployed 2.1 million new IT racks between now and 2025, which translates to roughly $62 billion in capital spend on data center infrastructure (Source: datacenterknowledge.com). The data center industry also has a long history of operating under difficult circumstances, which has prepared it for this crisis.
The role of data center operators is to ensure that network servers are operational and to escalate issues to data center managers. We had the pleasure of speaking with both Roger Desgroseilliers, Director of Facilities Operations for Montreal, who oversees a team of 11 people and is responsible for our three Montreal facilities (MTL-1, MTL-2 and MTL-3), and Laurent Dubois, Data Center Manager, who has 10 years of experience in data center operations. We discussed some of the challenges they faced as they navigated this unprecedented year for the industry.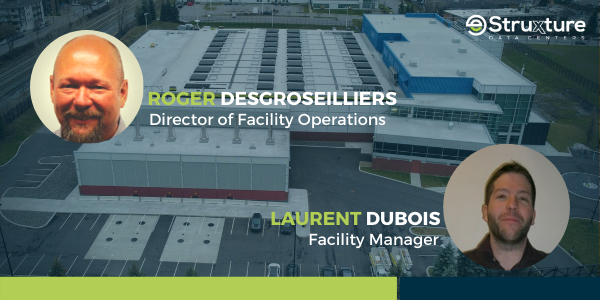 According to Roger, when COVID-19 erupted, operators had to be agile and regroup quickly to implement measures that would safeguard their employees and customers' businesses. In addition to implementing sanitary measures, they also had to determine what was considered "essential work" to evaluate the support needed from external suppliers.
Laurent's site is located in downtown Montreal, one of the areas that were hit the hardest by the virus. He remarks, "eStruxture serves 900 clients. During the first wave of COVID-19, clients were not comfortable or allowed to visit our data centers due to restrictions in place and relied on our teams to do some of the maintenance". eStruxture also offered a Smart Hands service at a 50% discount to support clients with their software and computer hardware needs.
Industry Best Practices
All industries have had to adjust and implement new safety protocols and procedures in response to this global pandemic. The disinfection of high-touch areas, frequent handwashing, and more remote work have all been an accepted part of this 'new normal'. Data centers are no different.
"Best practices are to ensure sanitary measures are in place, communicated and enforced throughout our sites", said Roger. "We also limit the workforce at the sites to necessary personnel for the day-to-day operations. Remote work is implemented wherever feasible."
According to Laurent, masks are also mandatory in public areas and some special guidelines were created for contractors coming from outside, such as testing their temperature and limiting contact with team members.
Challenges and Opportunities
With more people working remotely and B2B communications taking place digitally, the demand for technology is skyrocketing. This drives more network use, and as a result, more demand for the critical infrastructure that data centers are responsible for.
eStruxture has experienced rapid growth since its launch in 2017, and the last two quarters have been the strongest performing quarters in the history of the company. This has in large part been due to the impact that COVID-19 has had on companies' digital transformation strategy. However, with this fast growth, come new challenges.
When asked what they thought the next year would look like for the industry, both Roger and Laurent agreed that this newfound growth will only continue.
"COVID-19 has served as a trend accelerator for everything from housing to enterprise digitalization. A lot of businesses are now forced to go through e-commerce for their revenues and to create new digital platforms to reach their customers. The video games industry has also gotten a huge boost and platforms like Stadia along with it. This is all good for the data center industry," remarks Laurent.
Why eStruxture
As the only major Canadian-owned and operated colocation data center left, eStruxture has emerged as a true industry leader and trailblazer. With six facilities located in Vancouver, Calgary and Montreal, eStruxture is able to support rapid growth and unpredictable change and provides more locations, capacity, and connections than other data centres. However, it also owes its success to its people - the incredible data center operators behind the scenes, like Laurent and Roger.
"eStruxture differentiates itself by its entrepreneurial spirit and start-up mindset, industry knowledge and cutting-edge designs. All customers I have been fortunate to speak with are impressed with eStruxture and often comment on how eStruxture and its people are knowledgeable, helpful and want to make a difference."