Just how much of a role will data centers play in architecting an environmentally sustainable, digital economy? According to our CEO, Todd Coleman, and SVP of Operations, James Beer, the answer is "a big one". On November 12, both Todd and James spoke at Digital Infra Montreal, a data center-oriented sustainability conference that attracted industry leaders from across the United States, Canada and parts of Europe. While Todd spoke on the business case for going green, James engaged in a panel discussion on cloud gaming with a member of Ubisoft's team. We recap their key points here.
Always Think Green
As Greenpeace's Senior IT Sector Analyst commented, current science indicates that the world's climate is on track for greater change than initial estimates predicted. Within this context, Todd took the stage to make the business case for why and how data centers can go green.
As environmentally responsible citizens, it is easy to see why doing something to tackle climate change is important. However, for the business sector, it has been notoriously difficult to justify the expenditures involved in "greening" operations. As the case of our MTL-1 and MTL-2 data centers confirm, however, investing in equipment that improves your environmental sustainability does pay back on the balance sheet. In a "best of both worlds" scenario, it is also good for the environment.
Consider that just one 30 MW facility is equivalent in power to 25,000 homes. For data center operators, decreasing their Power Usage Effectiveness (PUE) ratio is a definitive way of both improving their facility's sustainability and operational efficiency, which significantly impacts the bottom line. PUE is defined as the ratio of total facility energy used to that delivered to the data center's IT equipment. While a value of 1 denotes complete efficiency, scores anywhere up to roughly 1.5 still indicate an efficient data center. Anything above that, and there is definite work to do.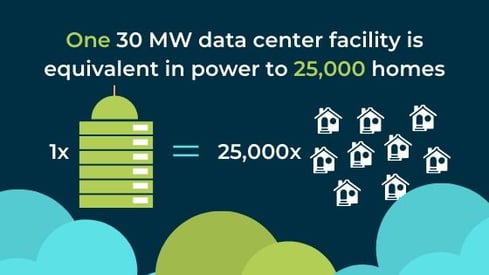 As a rule of thumb, it is important to remember to be farsighted in the development approach. After all, the data center industry may be an infrastructure business, but customers are driven by technology. Implementing technology with a longer life span that will pay back over time (even if it requires an imminent investment) is the way to go. When it came to MTL-1 and MTL-2, we faced two brownfield developments. In the case of MTL-1, we had an active data center using a costly, inefficient water-cooling system. With MTL-2, we essentially had a building unprepared for the needs of a data center. With that, though, came a lot of freedom to pursue an environmentally-sound design that would help us establish a low PUE and incur long-term savings.
With both facilities, we immediately committed to avoiding the use of water cooling in either facility. Given Quebec's moderate to colder climate, it just made financial sense to leverage air chiller systems in both facilities to take advantage of free cooling. As a result, in MTL-1, we installed a closed loop air system based on the use of oil-free magnetic bearing turbo compressor chillers. These delivered high levels of reliability and efficiency with the lowest total cost of maintenance and ownership out of all the options we evaluated. Thanks to this retrofit, we reduced our cooling requirements by over 70% in one year. As well, we dramatically reduced the PUE of this facility to 1.4.
At MTL-2, the story was similar. Realizing that we needed flexibility in our power design to accommodate different customer density requirements, we enacted the principles of choosing air cooling over water and using equipment with longer lifespans. For example, we switched to lithium ion batteries because of their smaller footprint and their 10-year life cycle that outdoes standard batteries. While some in the industry argue that raised floor designs are passé, we made use of our interstitial floor space to lay cabling along the bottom and shoot air across the top. By investing in LED lighting, other Energy Star equipment and green electricity from Hydro Quebec (also in MTL-1), we've been able to establish a PUE of 1.3. The bottom line is to #thinkgreen – it's the right choice from a financial and humanitarian perspective.
The Future of Gaming is in the Cloud
Is the future of everyting in the Cloud? Perhaps. Let's take a look at how video gaming is evolving. James Beer spoke on a super salient trend that data center operators across North America are just beginning to talk about – Cloud Gaming. As the name implies, cloud gaming is basically what Netflix was to the TV show and movie sector. Instead of buying individual games physically or online, consumers will soon be able to subscribe to cloud gaming services like Google Stadia and Microsoft's Project xCloud that will have a repository of games available on demand.
The key difference is in the operation of the game, of course. Traditionally, consumers download files to their devices and interact in only a limited fashion with other players and the game developer online. With cloud gaming, everything is moved to the cloud. Now, game files will reside on servers within data centers and each gamer will technically be viewing only a stream of their activities being computed on the remote servers.
Of course, the trick is to ensure that this architecture is only remote in its design, not in feel. Gamers will still need the instantaneous feel of game interactions. As a result, game developers like Ubisoft and others are increasingly looking for data center partners that offer dense connectivity options and are as close to end-users as possible (much like Netflix caching content close to your location for fast streaming). As games also increasingly target smartphone users, the need for 5G networks will also cause an even greater focus on local data centers that offer fast interconnection capabilities.
In this regard, eStruxture is well set up in one of Canada's dominant data center markets as well as in western Canada where we have three other facilities. Our three data centers in Montreal all offer high density deployments, which work well for compute and data-intensive Triple-A game developers. Through partnerships with cloud enablers and cloud providers, we offer abundant, ultra low latency connectivity options for customers to create any combination of on-ramps and cloud architectures they require. Lastly, we offer the proximal locations game developers and their end-users need to ensure low latency gaming experiences. With two facilities on the Isle of Montreal and one slightly further out, we're ready to support the future of gaming for years to come.