eStruxture recently had the opportunity to have an enlightening discussion with Ludia, a mobile game industry customer we value greatly. We chatted about their short and long-term goals, challenges, and how they consistently hit the mark with enjoyable, easily recognizable, cross-platform games. In a rapidly and ever-evolving industry, they've paved an impressive path to success, and are showing no signs of slowing down. eStruxture is proud to support businesses like Ludia whose unique mix of creativity, strategy, and dedication make them a force to be reckoned with.
What are Ludia's mission and core beliefs? Which games and/or projects are you most proud of, or known for?
Ludia is in the free-to-play mobile game market. We make games with the intention of impacting people's lives and being an enjoyable part of their daily routines.
Our strategy largely revolves around "known licensing". As such, most of our games are tied to partnerships with well-known, established brands, like Disney, a household name. This makes it easier for potential mobile gamers to relate, since these brands are already likely to be a part of their daily lives. We do however have our fair share of original titles, such as Jurassic World Alive, Teenage Mutant Ninja Turtles Legends, and DC Heroes & Villains.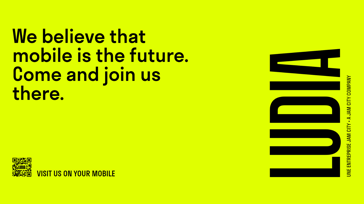 How is Ludia different from other mobile gaming companies?
For the most part, what separates us from our competitors is our strategic approach: we work with "forever franchises." These brands are akin to institutions, and have been around longer than many others. We often partner with these very specific companies for mobile game launches.
Quite often, our game releases coincide with major events, like blockbuster movie releases. This makes the adoption of our games feel very natural to our players. It's an integral part of our business strategy. Breaking through in the mobile gaming industry can be very difficult.
You may have developed a remarkable game. However, if it isn't adopted on a large scale, it's far less impressive. That's why we went with this strategy over a decade ago. It's proven to be a fantastic choice for us.
What's on the horizon for Ludia? Can you tell us any of your short-term or long-term goals?
We have a very strong culture of Live Operations, also known as LiveOps. In short, LiveOps is a style of game management and operations that treats games as a live service. We then continually deliver new features, updates, promotions, in-game events, improvements and more to the launched game. This enhances the player experience, and strengthens the gaming community.
LiveOps are a large component of our current portfolio. We foresee more of it in the near and distant future.
Your company has grown a lot. Have you faced any challenges as a business, whether from an IT perspective or another?
Like many companies and industries, COVID presented a never-before-seen challenge. The switch from on-site to remote work was entirely novel to us. It was very different. From a hardware perspective, we were able to navigate our new reality smoothly.
We also had to find new ways to communicate and collaborate virtually. But we made it work. As a collective, we wanted to make it work. Everyone had a say. All our voices were heard. In retrospect, because of that, the change has been successful, possibly more so than we had initially anticipated.
Ludia has been at our MTL-1 facility for some time. Why did you choose eStruxture? Why do you choose to continue growing with us?
Firstly, we'd like to acknowledge that we were and remain happy with our existing eStruxture relationship. Next, the MTL-1 facility, centrally located downtown Montreal, provides us with maximum convenience. Ease of access is important for our business.
eStruxture also had the most competitive pricing, which is always a consideration. Speaking transparently, we looked at what other service providers had to offer, eStruxture was the clear winner. And that makes continuing the relationship a very easy decision to make.
You mentioned that your experience with eStruxture has been good. What's been the best part?
The best part has been stellar customer service, with our sales representative, Miguel [Labaki] in particular. His hands-on approach to finding solutions is a tremendous asset to us. He's extremely helpful, and consistent. This extends past his duties as a sales representative.
We also greatly appreciate eStruxture's ability to make us feel that our business, regardless of size, is valued. We don't currently need many racks, unlike other organizations that may have a much larger demand. While shopping around and doing our due diligence, other data center providers told us quite transparently that we were too small.
That may be discouraging for some companies, particularly when they're ready and willing to make a purchase. But we never felt that way with eStruxture, and that made a huge difference.
Location is also super important for us. It helps us to be closer to our players. We also use another eStruxture site for disaster and recovery. We're based in Montreal, and although many of our team members don't live on the island, we're not too far.
We certainly take advantage of our ability to ship items directly to the data center. It's like having a base of operations. That service has been incredibly helpful.
How can eStruxture improve to better serve customers such as yourself?
Similarly to our LiveOps strategy, we look forward to new customer portal updates and features. We know this is something eStruxture takes very seriously, as we often see improvements. As time passes, the portal becomes more and more user friendly, practical, and helpful.
It serves as a great parallel for our business relationship with eStruxture as well.
How can customers contact you? (contact us page/email/phone, depending on which you prefer)
For more information on Ludia, gaming support, and job openings, visit our website at Ludia.com, or follow us on Twitter, @LudiaGames.