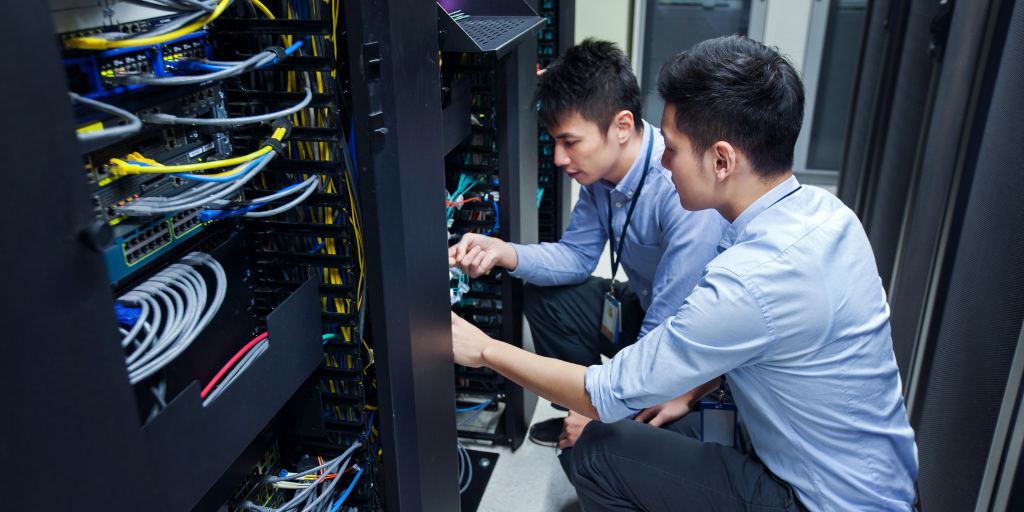 While colocation for your IT systems offers many advantages, it's also a fact that your equipment is in a geographically different location. No longer can you stroll down the hall to the systems room to install a hard drive or power cycle a router. Moreover, a good data center is designed not only for scalability, connectivity, and resilience, but also for physical security. For your own protection, just turning up at the data center's reception on the chance that you can work on your systems is generally not permitted. However, eStruxture allows around-the-clock, unaccompanied access, to registered customers at some of our facilities. Otherwise, advanced notice is required.
Physical intervention on your IT equipment in a colocation data center, therefore, needs another approach. Should you dispatch your IT engineers? You'll need to plan, budget, and to authorize access accordingly. Round trips to your collocated systems will impact productivity. Internal constraints in your business may delay getting the right person in front of your remote racks or cabinets. Other factors, such as government security rules, health crises like the COVID pandemic, or simply bad weather, can make physical access even more difficult.
Fortunately, colocation service providers like eStruxture offer a better solution. Remote hands and eyes services, as their name suggests, make professional assistance available directly within our data centers. With a variety of IT functions to choose from, you specify what intervention you need. Competent technicians then carry it out. You save on the time and expense of having to send your own team.
How remote hands and eyes services can help you
The extent of these services can vary. A provider may group more basic or hardware-oriented services together as "remote hands and eyes." Other, more software-based services are then sometimes known as "smart hands."
The right set of such services for you will also depend on your own remote IT management capabilities. For example, you may be able to remotely control and troubleshoot applications. But can you also soft-boot your collocated systems without assistance?
With these factors in mind, eStruxture's Remote Hands and Eyes services offer IT functions aligned with what customers commonly require. Within our data centers, these services include, but are not limited to:
Installing, replacing, or removing equipment, including routers, switches, system modules, disk drives, memory, etc

Power cycling a router, server, or switch, and soft booting a server

Moving equipment within your racks and cabinets

Ladder racking, pre-wiring of patch panels and equipment

Installing and maintaining cabling

Interface card removal and installation

Inventory of equipment, recording serial numbers, and capturing the installation status with digital photos

Verifying cable integrity for both copper and fiber media

Assisting with uncrating equipment from boxes and shipping replaced equipment

Patching equipment to a patch panel based on a supplied patching schedule
Skills and security
To optimize service to customers, our data center technicians are fully trained and certified to fulfill the IT functions we offer. But more than technical competence, they also strive to provide an outstanding customer experience. Professionalism and an aptitude for teamwork and positive, effective interactions are characteristics that eStruxture looks for and helps develop in our staff, for these reasons.
Stringent security certification to industry standards shows that colocation services protect customers. For example, the SOC 2 Type II certification awarded to eStruxture assures that relevant security controls are not only designed into our data centers, but also work as intended. This applies to our Remote Hands and Eyes services as well. Whether our technicians are wiring, patching, power cycling, or performing any other IT function, your systems remain protected against unauthorized access.
How to make the best use of remote hands and eyes services
The value you get from remote hands and eyes service also depends on the way you use them. Here are three tips to help you get the best results.
Know the outcome you want
A function and an outcome are two different things. Remote hands and eyes services are often defined in terms of IT functions because desired results may differ from one customer to another. For example, the removal of an interface card is a function, as is the installation. For one customer, the goal of removing a card and installing another might be preventive maintenance. But for another, the desired result might be to significantly increase IT system capabilities. Keep your own desired result in mind to best leverage remote hands and eyes services.
Align on the process
A process to accomplish an IT function may be standard throughout the industry. For example, power cycling a router with power down and disconnection, a waiting period, power up, and verification of operation. By comparison, installing, replacing, or removing equipment may be more complex. Intermediate checkpoints and interactions may be necessary to ensure a satisfactory result. If an intervention requires a process or playbook specific to your business, share this information with the data center technicians for a common understanding.
Communicate during all steps
Poor communication causes many problems. Conversely, many difficulties can be overcome with good communication. This includes initial contact, continuing with clear communication as functions are performed, and presenting opportunities for feedback. Remember also that remote hands and eyes technicians are broad IT experts. To help them appreciate any particularities about your requirements, discuss with them the outcome you want and how best to achieve it.
Next steps
eStruxture's Remote Hands and Eyes services can save you time and money for interventions on your collocated systems that require a physical presence. eStruxture technicians can intervene securely and cost-effectively for you, so that your own personnel do not need to travel to the data center.
Contact us today to find out more and see how you can use our Remote Hands and Eyes to benefit your business.