We recently had the pleasure of interviewing one of our valuable customers, Rafflebox and learning how they make fundraising simple and efficient for everyone, from charitable organizations to major league sports teams. With a passionate management team, world-class support, and zero sign-up fees, it's no wonder their growth has skyrocketed in the shortest amount of time!
At eStruxture, we are proud to be supporting businesses such as Rafflebox that have proven to be true advocates of charitable and non-profits of all sizes.
Who is Rafflebox?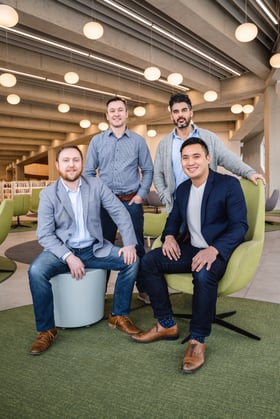 Rafflebox makes online fundraising easy by empowering teams, big and small, to raise more funds for community causes through online 50/50 and prize raffles. We work with registered charities and non-profits, including major and minor league sports teams, schools, hospital foundations, animal welfare causes and, fire departments, just to name a few!

Over the years our team has attended many sporting events and corporate fundraisers. We've observed how difficult it can be to successfully manage and execute these events. Organizations require a plethora of resources (people, time, and money) to achieve their goals. So, we asked ourselves, how can we make it better?

In the summer of 2017, we set out on a quest to solve this problem and to innovate the way organizations fundraise in a digital market. Let's face it, cash is slowly becoming a second or even third choice, behind Debit, Credit, and the emerging e-wallets. We are rapidly moving towards a favored digital currency.

Our team envisions technology as a way to make our clients' lives easier. By developing an online platform, we've streamlined the payment process for ticket buyers and simplified tracking for organizations. Best of all? We're increasing the organization's ability to reach new factions of their target audience by simply sharing a link. By creating a new online fundraising space, Rafflebox is empowering non-profits to streamline their fundraising, eliminate overhead and focus on what matters most – enriching communities one cause at a time.

What sets Rafflebox apart from competitors?
Rafflebox works with organizations of all sizes. Big or small, any cause is welcome. As an extension of your fundraising team, we hand you the resources you need to succeed and empower you to take control of your fundraising. With no sign-up fee, we've removed the barrier-to-entry to ensure the Rafflebox experience is accessible to everyone. We provide world-class customer service and hands-on support throughout the whole process - from applying for provincial licenses to designing custom raffle websites to maximizing ticket sales through marketing. We are committed to helping local non-profits and communities thrive. At Rafflebox, your cause is our cause.
Where is Rafflebox headed? What are some of your goals?
Our vision is to create accessible digital fundraising tools that facilitate fast and easy fundraising for community causes around the globe. We currently serve seven Canadian provinces and territories and expect to be nationwide by the end of 2021, followed closely by the United States.
We are always innovating to improve the Rafflebox experience. We're currently exploring ways to streamline raffle setup for charities and non-profits even more. Users can expect to see more self-serve options becoming available over the next few months.
What are some of the challenges you are facing as your company is growing?
Rafflebox is committed to building a strong partnership with provincial gaming regulators. We are proud to be an industry-certified product and approved Electronic Raffle Manager. As a quickly growing business eager to offer fundraising solutions to all communities, the process to become certified in each province can take months. Each application is different and can include background checks, interviews, and other documentation requirements. Although time-consuming, these detailed reviews are necessary to ensure a safe and regulated industry. Rafflebox values our relationships with provincial regulators and, once established, Rafflebox can continue to advocate on behalf of our charitable and non-profit customers to continue to drive positive change in the gaming industry.
Why did you choose eStruxture as a partner and what problem were you trying you solve with our services?
Some provincial gaming bodies in Canada require digital platforms like Rafflebox to be hosted on physical servers located within provincial boundaries. Physical infrastructure, like servers, switches and bandwidth, can be expensive and require significant capital - especially for a business of our size and scale. eStruxture's hosted service was able to help us mitigate those costs by enabling Rafflebox to scale up and down as needed, without investing massive capital in a traditional manner.
What more could we do in the future in order to better support the growth of Rafflebox?
To date, Rafflebox has experienced excellent customer service from the team at eStruxture - from flexibility in service offerings to the provision of comparable infrastructure services across North America. eStruxture continues to support Rafflebox with data storage solutions, so we can focus on putting money back into the hands of communities in need.
How can customers contact you?
To learn more about fundraising with Rafflebox, visit Rafflebox.ca and speak with one of our local team members. Once your licence is approved and you give us the green light, we can have your fundraiser live in two days or less!
You can also browse our live raffles for your chance to win big and support a good cause.